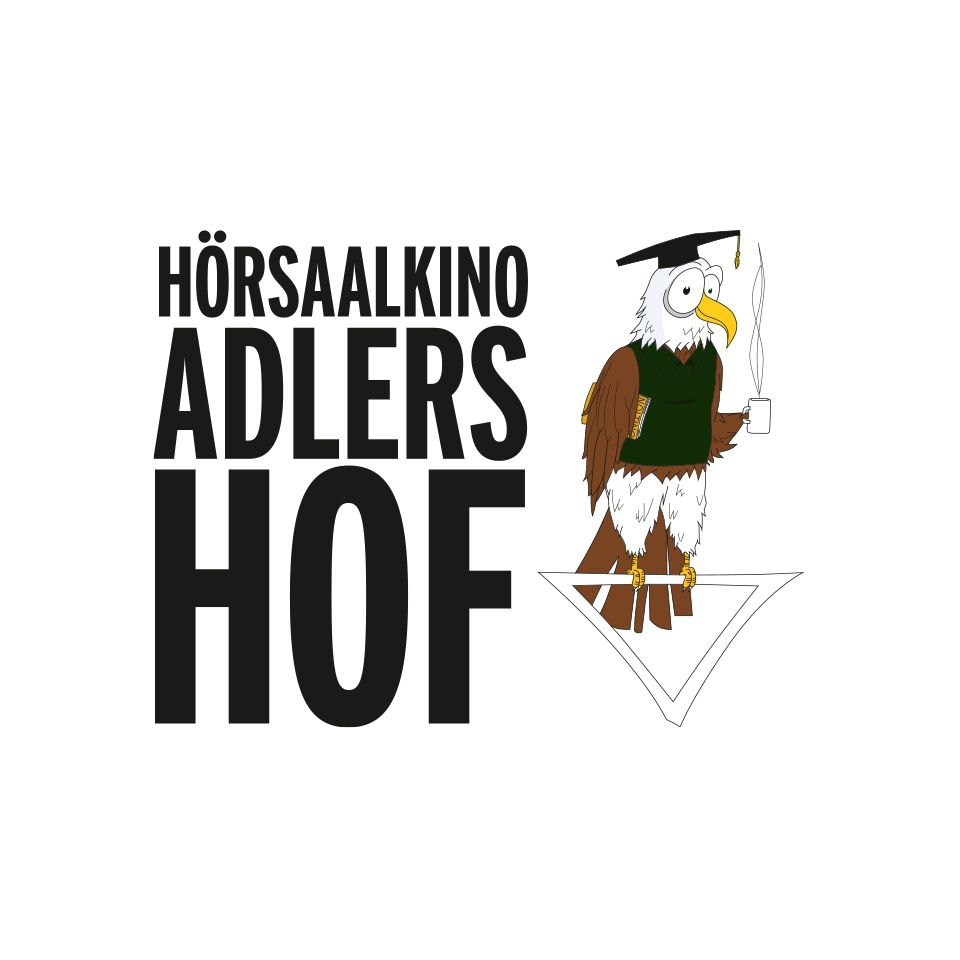 The Adlershof auditorium cinema is a student initiative that wants to give you the opportunity to see cutting-edge films as well as absolute classics in your lecture hall as cheaply as possible. We are supported by unifilm.de AG, which was founded in the 1970s in Göttingen as a student initiative. Unifilm's goal is to bring cinema into lecture halls. To this end, Unifilm has various sponsors on board, such as our long-standing partner, the Techniker Krankenkasse.
We are pleased to be able to show you a variety of breathtaking but also moving films again in the winter semester of 2023/24 after all the time of standstill. This semester you can expect specials like the "Adlershof Anime Night" and film highlights like "Interstellar", "Karate Kid" or "The Discovery of Infinity"!
Of course, the annual holiday classic "The Feuerzangenbowle" including real homemade Feuerzangenbowle "Adlershofer Art" will not be missed!
The Adlershof auditorium cinema has returned to campus for a year now and during this time we have already been able to recruit a few new members to our team. Nevertheless, we are always happy to welcome more new film enthusiasts who would like to join our team.
So if you are interested in working with us and would like to make the film culture on the Adlershof campus shine, then just talk to us or contact us via Instagram.
We are looking forward to your visit!
Your auditorium cinema Adlershof wishes you a wonderful, cinema-tastic winter semester 2023/24!
Moviews in the winter semester 2023/24
11.10.23 Interstellar
19.10.23 Karate Kid
24.10.23 Dungeons & Dragons
26.10.23 Wall-E
31.10.23 Evil Dead Rise
02.11.23 Barbie
09.11.23 Orient-Express
16.11.23 Sunshine
23.11.23 Anime-Night: The castle in the sky + Prinzessin Mononoke
--> Both movies for 1,50€
30.11.23 The discovery of infinity
07.12.23 Nightmare Before Christmas
14.12.23 The Feuerzangenbowle with real Feuerzangenbowle and participation packages! The cult film in your lecture hall! Entry : 1,50€
21.12.23 The Life of Brian
11.01.24 Wonder Woman
18.01.24 Grand Budapest Hotel
25.01.24 Participatory film: Highschool Musical --> Sing your heart out!
01.02.24 Snowden
08.02.24 Rock of Ages
Every thursday (+ Additional dates, see program), Entry starting at 5:00 p.m --> Starting: 17:30 p.m
Gerthsen-Lecture-Hall (Room 1'201), Department of physics (Lise-Meitner-Haus), Newtonstr. 15, 12489 Berlin-Adlershof
Entry 1 €, Semester fee 0,50 € (Einmalig/Semester)
Our program can also be viewed on the Unifilm website or on Instagram, including all short-term changes. You can also find our film posters, flyers and program brochures on campus if you prefer the analogue format.
Please note that the new Unifilm app will be available from the summer semester of 2023. This replaces, among other things, the previous paper club cards and also provides all of the information mentioned above. You can find more information about this on our Instagram page.
All statements without guarantee. Subject to change.
Film suggestions
If you have suggestions for good films or themed evenings, write to us via DM on Instagram or simply contact us in person!
Films from past semesters
SoSe23: Greatest Showman, Everything Everywhere all at Once, Pride (ZaPF-Special), Catch me if you can, Hidden Figures, Werner: Beinhart, Anime-Night: The walking castle + Chihiros Journey to magic land, 2001: A Space Odyssey, The Imitation Game (Pride-Month-Special), The Rocky Horror Picture Show, Science Cinema: Jim Knopf and Lucas the train driver + Lecture from Prof. Dr. Thomas Lohse: "Jim Knopf und die Physik von Michael Ende", Arrival, Zoomania, Back to the Future, Mama Mia, Pulp Fiction

WiSe22/23: Dune (2021), Contra, The Batman, Uncharted, The Rocky Horror Picture Show, Spencer, Little Woman, Elvis, Hamilton, Soul, Cloud Atlas, Nomadland

SoSe19: Bohemian Rhapsody, Venom, Lady Bird, Mary Poppins Returns, Aquaman, Spider-Man: A New Universe, The Big Lebowski, First Man, The First Name, Glass, Anna and the Apocalypse, The Rocky Horror Picture Show, The Incredibles 2, Your Name

WiSe18/19: The Big Lebowski, Deadpool 2, Call Me by Your Name, Solo: A Star Wars Story, The silent classroom, Black Panther, Isle of Dogs, Die Feuerzangenbowle, It, Double Feature: Sharknado 1 & 2, Avengers: Infinity War, Blackkklansman, Ocean's 8

SoSe18: Thor: Ragnarok, Robin and the 7 Hoods, Jumanji Double Feature, Coco, Blade Runner 2049, Star Wars: The Last Jedi, A Shot in the Dark, Three Billboards Outside Ebbing, Missouri, Breakfast at Tiffany's, The Disaster Artist, The Killing of a Sacred Deer, A Ghost Story

WiSe17/18: Guardians of the Galaxy Vol. 2, Dead Poets' Society, Rope, Moonlight, Die Feuerzangenbowle

SoSe17: Arrival, Captain Fantastic, Nerve, Good Morning, Vietnam, Rogue One: A Star Wars Story, Vaiana, The Breakfast Club

WiSe16/17: Zootopia, The Big Lebowski, The Feuerzangenbowle, The Jungle Book, Deadpool, Pulp Fiction

SoSe16: Er ist wieder da, The Martian, Taxi Teheran, Star Wars – Das Erwachen der Macht, Sicario, Bridge of Spies, Steve Jobs, Carol, Alles steht Kopf, Gallows – Jede Schule hat ein Geheimnis, The Last Witch Hunter, The Revenant, Self/Less – Der Fremde in mir

WiSe15/16: Herr Lehmann, Avengers: Age of Ultron, Selma, Chappie, Kingsman - The Secret Service, Jurassic World, Ex Machina, The Interview, Die Feuerzangenbowle, The Lego Movie, Heil, Mad Max: Fury Road, Victoria, Inherent Vice

WiSe14/15: Her, Stromberg - Der Film, Edge of Tomorrow, Boyhood, Nymphomaniac 1 & 2, Stereo, The Hobbit 2: The Desolation of Smaug, Die Feuerzangenbowle, Zeit der Kannibalen, Life of Pi, Grand Budapest Hotel, Guardians of the Galaxy, Dawn of the Planet of the Apes

SoSe14: Lost in Translation, Shining, Ein Freund von mir, 00 Schneider - Im Wendekreis der Eidechse, Blue Jasmine, The Wolf of Wall Street, The Sixth Sense, Gravity

WiSe13/14: Casablanca, A Beautiful Mind, Per Anhalter durch die Galaxis, Amores Perros, District 9, Die Jagd, Pan's Labyrinth, Das Dschungelbuch, Eagle Eye, Trainspotting, Side Effects, K-Pax, Full Metal Jacket